project Summary
M&T Bank Stadium opened to a full-capacity crowd on Sunday, September 6, 1998 with the kick-off of the first official National Football League (NFL) game at Camden Yards.  The event marked the culmination of efforts begun in 1984 to return the NFL to Baltimore.
Stadium Features: 
Seven Levels
Service
Main Concourse
Press
Club
Lower Suite
Upper Suite
Upper Concourse 
Facade
Brick Arches at Base
Aluminum Trim at Grid Lines
Metal Trim and Rakers
Pewter Color
Structural Steel Rakers
Dark Brick and Mortar (Made in Maryland)
study gallery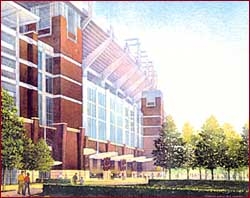 Architect/Design
Hellmuth, Obata & Kassabaum, Inc.
Construction Manager
Whiting Turner/Barton-Malow
Project Budget
$229 million
Completion Date
September 5, 1998
Projects/Studies