Governor Larry Hogan today joined Baltimore City Mayor Catherine E. Pugh; Baltimore City Council President Bernard C. "Jack" Young; Maryland Department of Housing and Community Development Secretary Kenneth C. Holt; Dr. Donte L. Hickman, Sr., Pastor of Southern Baptist Church; and Baltimore City officials and community stakeholders to conduct a demolition marking the latest phase of Project C.O.R.E.'s blight removal on N. Chester Street in Baltimore City. Project C.O.R.E., or Creating Opportunities for Renewal and Enterprise, is a multi-year, city-state partnership to demolish vacant and derelict buildings in Baltimore and replace them with green space or to create the foundation for development.
Fri, 06/09/2017 - 11:57 am
Next MSA Board of Directors Meeting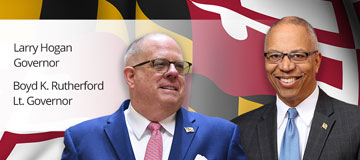 Human Trafficking
GET HELP
National Human Trafficking Hotline -- 24/7 Confidential
1-888-373-7888 | Text: 233733
For more information on human trafficking in Maryland click
here
.