Mon, 04/03/2017 - 05:52 pm
Getting Here: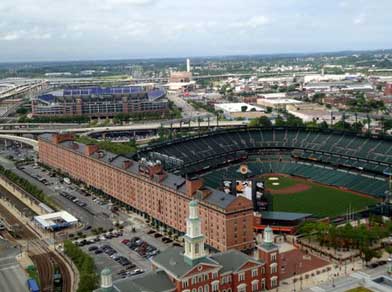 Camden Yards is a central crossroads.  Interstate highways, trains, bike trails and bus lines converge on its campus. The airport and Amtrak are connected by light rail and the Inner Harbor (a short walk from the complex) is accessed by water taxi. So while driving to an event at the Camden Yards Sports Complex (CYSC) is a popular option, you may wish to consider alternative transportation because it is so convenient.
Parking: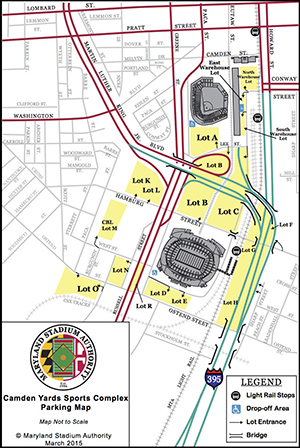 Parking at Camden Yards Sports Complex is available but can change, as on game days or during special events CYSC may be parking by permit only. For information regarding parking lot location, please see the map to the left for all of CYSC's parking lots.
Transportation to CYSC:
Airport: Several hotels are located along the light rail line between the airport terminal and the stadium stops. Airport hotels provide shuttle service to the light rail station.
AMTRAK: Stops at both BWI airport and Penn Station downtown. Light rail connects both locations.
Bus: The Baltimore City bus depot at 2110 Haines Street is just south, and within walking distance, of the Camden Yards Sports Complex.  It offers direct service to Washington, New York, and Philadelphia several times a day via Greyhound and Peter Pan.  The Bolt Bus, with service to Washington, Baltimore, Philadelphia and Boston, leaves from Penn Station and is accessible to the complex via light rail.
Free Shuttle: The Charm City Circulator, a fleet of free Hybrid Electric vehicles, provides regular downtown service for residents and visitors to Baltimore.  The East-West Orange Route stops one block north of the complex on Pratt Street.  The North-South Purple Route has several stops along the Inner Harbor and Federal Hill a few blocks east of the complex.
Bicycle: For those in the Baltimore suburbs, the B&A, and BWI trails connect to light rail. There are racks at the stations, and bikes are permitted on board. In the city, the Gwynns Falls Trail, beginning at the I-70 park and ride, leads to M&T Stadium, where bicycle racks are also available.
Light Rail/Metro/Express buses: Maryland Transit operates several systems to bring visitors to Camden Yards.
Light rail connects to park and ride sites north and south of the city, with stops in neighborhoods between.
Metro system carries passengers to and from Owings Mill, north of Baltimore. The Lexington Market and Charles Center stops are a few blocks from the complex.
Express buses operate from selected park and ride locations on game days.
MTA transportation schedules, routes, fares, and game day bus connections can be accessed here: http://www.mtamaryland.com
Next MSA Board of Directors Meeting
Tuesday, August 8th at 3:00 PM
Warehouse at Camden Yards
Executive Conference Room
333 W. Camden St., Suite 500
Baltimore, MD  21201
Meeting notice current as of 7/13/2018