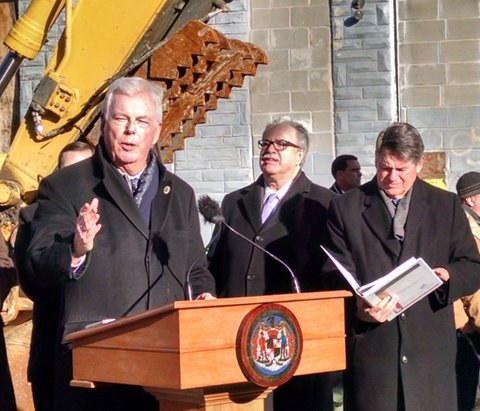 Governor Hogan, Mayor Rawlings-Blake Partner to Address Blight in Baltimore City, Announce State Project
For immediate release:
January 5, 2016
Contact:
Hannah Marr hannah.marr@maryland.gov
Shareese Churchill shareese.churchill@maryland.gov
410-974-2316
Project C.O.R.E. to Provide $94 Million to Demolish Thousands of Vacant Buildings; State to Offer $600 Million in Reinvestment Funds
ANNAPOLIS, MD - Governor Larry Hogan and Mayor Stephanie Rawlings-Blake today announced a multi-year, multi-hundred-million dollar initiative to address blight in Baltimore, declaring that the joint city-state partnership will bring significant resources to demolish thousands of vacant buildings and replace them with green space and a stronger foundation for redevelopment and reinvestment in the city.
The governor and the mayor kicked off Project C.O.R.E, or Creating Opportunities for Renewal and Enterprise, in west Baltimore's Sandtown-Winchester neighborhood, where the entire 1000 block of N. Stricker Street is slated for demolition.
"Fixing what is broken in Baltimore requires that we address the sea of abandoned, dilapidated buildings infecting entire neighborhoods," said Governor Hogan. "Together, we will transform these neighborhoods from centers for crime and drugs, to places our city, and our entire state, can be proud of. Working with the private sector to invest in projects like affordable housing, retail and other new businesses will help ensure that Baltimore becomes a better place to live, work, and retire."
"Transforming vacant homes and vacant buildings into inviting green space and livable new developments is a critical part of our goal of attracting 10,000 new families to Baltimore City and dramatically improving the quality of life for current city residents," said Mayor Rawlings-Blake. "The governor's commitment of new state dollars will enable us to accelerate the progress we have made through our nationally recognized Vacants to Value program and deliver new opportunities to more neighborhoods. Under my Vacants to Value program, I quadrupled Baltimore City funding for demolition to $10 million per year, and I welcome this significant new commitment from Governor Hogan."
Under the terms of the four-year partnership, the State of Maryland and the City of Baltimore will focus on the transformation of blighted city blocks. The Maryland Stadium Authority is the project manager responsible for overseeing the demolition of vacant structures jointly identified by Baltimore City and state authorities. Total estimated funding over the next four years for the demolition portion of the project includes $75 million from the state and in-kind administrative services from the City of Baltimore, equivalent to $1 for every $4 allocated by the state.
In the first year of the program, the state estimates that approximately twenty city blocks can be completely cleared of blight. In subsequent years, the Maryland Department of Housing and Community Development along with the Baltimore City Department of Housing and Community Development will establish demolition targets annually, with a goal of demolishing as many full blocks of blight as possible over the term of the project.
Once demolition is completed on a city block, empty lots will be replaced with green space and assessed for their potential to be redeveloped in the future. The first demolition in the city-state partnership will be in the 1000 block of N. Stricker Street in the Sandtown-Winchester neighborhood.
The elimination of blighted portions of the city will be supported by more than $600 million in financing opportunities from the Maryland Department of Housing and Community Development, including more than $150 million in fiscal year 2016 alone. The state's commitment will encourage private sector developers to revitalize Baltimore's neighborhoods through housing and other investments that will attract families and support economic growth. Financing for quality development projects will be made over the next four years through a range of innovative programs and partnerships, including the Rental Assistance Demonstration program and the issuance of potentially $200 million in revenue bonds.
Maryland Stadium Authority Chairman Thomas Kelso said the authority has expertise managing large-scale projects such as this.
"In more than 25 years of service to improving the quality of life for Marylanders and visitors, the Maryland Stadium Authority has overseen several billion dollars in project development - most recently in Baltimore City schools' revitalization and reconstruction program now underway," Kelso said. "We have a well-deserved reputation for delivering their projects on time and on budget in the best interests of the taxpayers of Maryland."
The Maryland Stadium Authority, an independent agency, was created in 1986 for the purpose of building facilities that would attract a new National Football League team to Baltimore and retain the Major League Baseball Orioles team in downtown Baltimore. The authority has since been involved with projects involving historic preservation, adaptive reuse, community redevelopment, and economic opportunity throughout the State of Maryland.
Additional Remarks made by MSA Chairman Kelso:
I am proud to be here today representing the incredible team of professionals at the Maryland Stadium Authority, led by Executive Director Mike Frenz.  Also here with us today are Board members Kali Parthemos, who is the Baltimore City representative, Gary Mangum, and Joe Bryce.
Over the 30 years of its existence, through project after project, the MSA has earned its well-deserved on time, on budget reputation.
We are very honored and excited that Governor Hogan has asked us to assume management and coordination for this dynamic project in partnership with Baltimore City.  As a resident of Baltimore City, I understand just how important it is to have the State and City working together to help solve problems and accelerate change.
Since the inception of the MSA, we have worked on many projects partnering with Baltimore City, including Camden Yards, the Baltimore City Convention Center and the Hippodrome -- all iconic projects, In addition, as you may know, we are currently managing the $1.1 billion construction program that will help revitalize Baltimore City schools as well as the neighborhoods around them and the community groups who rely on them.  We will be breaking ground on the first of those schools later this month.
At the MSA, we partner with other state agencies, local governments and the private sector to build more than structures.  In conjunction with our partners, we've helped rebuild neighborhood, revitalized communities, created new business opportunities and opened gateways here in Baltimore City and all across Maryland.  Along the way we've utilized our expertise to bring project in on time and on budget.  
For this project we will utilize that expertise to identify as many efficiencies as possible to help stretch these valuable dollars as far as they can go.
We look forward to working with our partners on this project, including Secretary Holt and the Maryland Department of Housing and Community Development and Commissioner Graziano and the Housing Authority of Baltimore City to help build on the foundation of a new beginning for Sandtown-Winchester and other communities throughout the City of Baltimore.
Tue, 05/23/2017 - 03:38 pm
Next MSA Board of Directors Meeting
Tuesday, December 5, 2023, 12:00 p.m.
The Warehouse at Camden Yards
Executive or Conference Room 1
333 W. Camden St., Suite 500
Baltimore, MD  21201
Agenda / Live Stream

Maryland Stadium Authority, Governor Moore and the Baltimore Orioles Agree on Terms to Keep the Team in Baltimore for 30 Years and Revitalize Downtown Baltimore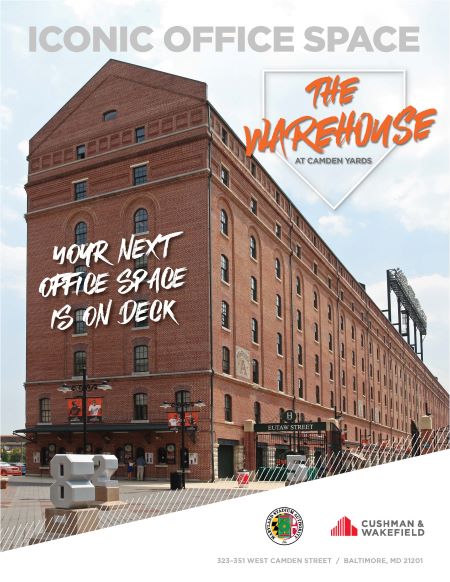 Warehouse at Camden Yards
Leasing Opportunities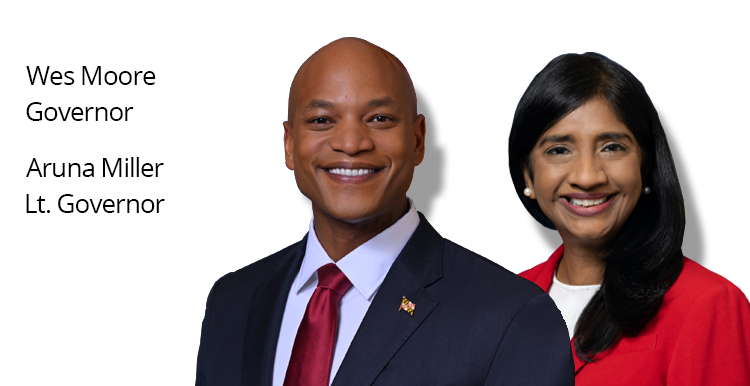 Human Trafficking
GET HELP
National Human Trafficking Hotline -- 24/7 Confidential
1-888-373-7888 | Text: 233733
For more information on human trafficking in Maryland click
here
.