Wed, 08/25/2021 - 12:36 pm
Announcement Number
MS-0821
Announcement Number:  MS-0821
Status: Full-time, regular, benefitted, non-exempt
Hiring Range: $65,000+ depending upon qualifications.  State salary rules may apply for promotions and transferees.
Division:  Facilities Management
Location: Oriole Park at Camden Yards Sports Complex (CYSC), Baltimore City 
Closing Date:  November 30, 2021
NATURE OF WORK:
An MSA Maintenance Supervisor (Operations) is the advanced level of work in all building trades of plumbing, steam fitting, heating-ventilation-air conditioning (HVAC), or refrigeration (HVAC-R), or electricity.  An employee in this classification supervises lower level maintenance technicians, semi-skilled and/or unskilled maintenance workers. The Maintenance Supervisor may be required to perform maintenance tasks, such as construction, preventative maintenance, improvements and repairs to buildings, fixtures, mechanical equipment, and is expected to perform specialized tasks in at least one of the trades.  The Maintenance Supervisor will provide guidance and direction to other unskilled or skilled maintenance workers. Employees in this classification receive general direction from the Facilities Manager or other designated higher-level management staff.  
EXAMPLES OF WORK:
(The duties listed below are intended as illustrations of the various types of work that may be performed.  The omission of specific statements or duties does not exclude them from the position if the work is similar, related, or a logical assignment to the position).
Supervises, trains, guides, and coaches lower level technicians and semi-skilled or unskilled maintenance workers;

Provides on-the-job training to employees;

Assist in the oversight of contractors and vendors

Makes recommendations to agency personnel on the resolution of technical and  complex problems;

Plans new or modified installations by preparing sketches, diagrams or specifications according to blueprints and local codes;

Participates in construction installation inspections with field superintendents or engineers as the agency's on-site expert;

 

Schedule and coordinate technicians and contractors for the support of events;

Organizes, schedules, and coordinates the technical building maintenance work and installation services rendered by employees and contractors assigned to the trades and general services sections;

Prepares contractual specifications for construction or overhaul work to be done by private vendor firms;

Assists in the preparation and administration of the building maintenance budget;

Develops and revises internal operating field procedures;

Inspects completed job assignments for adherence to trades standards or contract specifications;

Compares cost of completed jobs with original cost estimates;

Prepares specifications for the requisition of equipment, tools, parts, and supplies;

Inspects equipment, tools, parts and supplies for adherence to specifications;

Inspects shop and work areas for adherence to safety, sanitary, and security regulations;

Secures tools and equipment;

May take inventories;

Performs other related duties as assigned.
KNOWLEDGE, SKILLS, AND ABILITIES AND KEY COMPETENCIES:
(The following generally describes the knowledge, skills, and abilities that are required to enter the job or to be learned within a short period of time in order to successfully perform the assigned tasks).
Knowledge of the methods, materials, techniques and principles used in the installation, repair, testing and maintenance of equipment, systems and control devices;

Knowledge of the hazards of and precautions required in the safe operation of systems and equipment;

 

Knowledge of applicable safety regulations, rules, laws and standards;

Knowledge of the safe use and operation of testing equipment;

Skill in performing complex and routine preventive maintenance on systems, equipment and machinery;

Skill in the safe use and maintenance of manual and power tools and testing equipment;

Skill in reviewing and understanding blueprints, diagrams and schematics;

Skill in the use of common maintenance tools and equipment, such as wrenches, screwdrivers, hammers, levels, shovels and saws;

Skill in the use of trade tools and equipment utilized in the respective trade areas, such as in plumbing the use of plungers, pipe wrenches, welding equipment, drain rotors and small hand tools;

Skill in applying the techniques and practices utilized in one or more of the following trades: plumbing, steam fitting, heating, refrigeration, ventilation, air-conditioning, and electricity;

Ability to perform basic arithmetic computations;

Ability to comprehend and follow instructions and directions;

Ability to prepare sketches, diagrams and specifications;

Ability to complete and maintain work orders, maintenance and repair logs and other forms;

Ability to estimate the time, materials and staff required to complete a project;

Ability to direct and control the work of lower-level technicians, semi-skilled maintenance workers;

Ability to communicate effectively with staff, administrators and the general public.
GENERAL QUALIFICATIONS:
Education:  Graduation from an accredited high school or possession of a high school equivalency certificate. 
Experience:  Five (5) years of experience in Building Operations with at least two of those years demonstrating a role as supervisor. Basic PC skills; Microsoft Word, Excel and Google applications. Software and Maintenance - Our operations are 100% electronic. Proficient use of our Computerized      Maintenance Management System (CMMS) and other administrative software's will be required.
WORKING ENVIRONMENT AND PHYSICAL DEMANDS:
(The conditions herein are representative of those that must be met by an employee to successfully perform the essential functions of this job.  Reasonable accommodations may be made to enable individuals with disabilities to perform the essential job functions).
Environment —

Work may be performed in a standard office setting with some travel to various locations to attend meetings or inspect and perform departmental activities in response to emergency scenes or critical incidents: Employee may be required to work indoors or outdoors in areas of extreme heat or cold. The noise level of the work environment is usually moderate but may be occasionally loud due to alarms, equipment noise, etc. Employee is subject to emergency call-out at any time and may be required to work extended work hours including evenings and weekends to include scheduled sporting and catered events.

Physical —

  Primary functions require sufficient physical ability and mobility to work in an office setting and to participate in emergency response situations; to walk, stand, or sit for prolonged periods of time; to occasionally stoop, bend, kneel, crouch, reach, and twist; to lift, carry, push, and/or pull moderate to heavy amounts of weight up to 50 pounds; to operate a vehicle to travel to various locations; to operate and use specialized equipment; and verbally communicate to exchange information.

Equipment —

The work may require the use of protective equipment such as safety goggles, face shields and gloves when drilling into metal, masonry or concrete; masks and respirators when working around asbestos; and insulated rubber gloves and sleeves when working around high voltage lines.
LICENSES, REGISTRATIONS AND CERTIFICATIONS:
Employees in this classification may be assigned duties that require the operation of a motor vehicle. Employees assigned such duties will be required to possess a motor vehicle operator's license valid in the State of Maryland.
Employee in this position must possess a Journeymen's Certificate or greater in one of the following trades:
Mechanical / HVAC

Plumbing

Electrical
HOW TO APPLY:  
Interested candidates must submit an MSA employment application via mail or e-mail:
Option 1 (Preferred): Visit MSA's website, www.mdstad.com, Apply for a Job and use the link at the bottom of the page to complete an electronic application.
Option 2:  Electronically send application and any other necessary materials to employment@mdstad.com with the Announcement Number MS-0821 in the subject line.
Resumes may accompany MSA's application; however, all sections of the application must be completed according to the instructions or it will not be considered. Applications may also be downloaded by accessing website http://www.mdstad.com/pdf/MSAApplicationfillable.pdf or obtained by calling 410-333-1560 (toll free 1-877-637-8234).  TTY users call via the Maryland Relay Service.
As an equal opportunity employer, The Maryland Stadium Authority is committed to recruiting, retaining and promoting employees who are reflective of the State's diversity.
Next MSA Board of Directors Meeting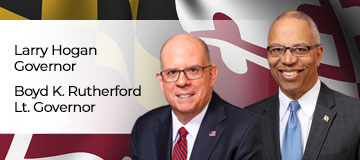 Human Trafficking
GET HELP
National Human Trafficking Hotline -- 24/7 Confidential
1-888-373-7888 | Text: 233733
For more information on human trafficking in Maryland click
here
.