Fri, 06/09/2017 - 08:50 pm
Job Title
Vice President, Human Resources
Image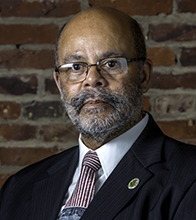 Rodger Dorsey has 39 years of experience in several human resources specialties, which include Recruitment/Talent Acquisition, Onboarding, Classification & Compensation, Employee Relations, Human Resources Development, Benefits Administration, Equal Employment Opportunity and Affirmative Action, and Labor Relations. He has been with the Maryland Stadium Authority since May 2010. Dorsey's background includes 15 years in personnel management working for engineering companies in the Washington DC and Columbia MD areas before joining the State of Maryland in 1997.
Dorsey's public service background includes human resources management at five other Maryland agencies – University of Maryland, Department of Natural Resources, Department of Transportation, the Maryland Judiciary, and the City of Baltimore Civil Service Commission. Dorsey is an alumnus of Bowie State University and the University of Baltimore and possesses degrees in English, Education, and Human Resources Development.
Honors:
2001 – Outstanding Service Award, University of Maryland Baltimore County
2006 – Appreciation Award for Administrative Excellence, Maryland Department of Natural Resources 
Certification:
Senior Professional in Human Resources (SPHR) Life Certification granted by the Human Resources Certification Institute.
Next MSA Board of Directors Meeting
Tuesday, April 3rd 3:00 PM
Warehouse at Camden Yards
333 W. Camden St., Suite 500
Baltimore, MD  21201
Meeting notice current as of 3/29/2018
Executive Boardroom
Agenda