Wed, 06/14/2017 - 06:11 pm
Job Title
Public Information Officer
Image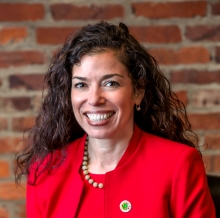 Rachelina Bonacci joined the Maryland Stadium Authority (MSA) team as its Public Information Officer in 2017. Bonacci is responsible for evaluating and assessing the informational, publicity, and public relations needs of the MSA and for planning, developing and directing a comprehensive program to address those needs.
Prior to joining the MSA, Bonacci spent more than 20 years honing her skills in marketing, communications, sales and events management in the travel industry including Southwest Airlines Co. and Hyatt Hotels & Resorts. She was honored to receive the Maryland Tourism Advocate of the Year Award recognizing her achievements at Howard County Tourism & Promotion.

Bonacci has a Bachelor of Arts in Philosophy from the University of Maryland at Baltimore County (UMBC) and recently completed professional certificates in Digital Marketing and Social Media Management from Georgetown University's School of Continuing Studies. She is an active participant in the National Chapters of the Public Relations Society of America and American Marketing Association. Bonacci served on the Board of Directors of the Maryland Tourism Coalition and volunteers on Team Maryland on behalf of the U.S. Travel Association.
Next MSA Board of Directors Meeting
Tuesday, April 3rd 3:00 PM
Warehouse at Camden Yards
333 W. Camden St., Suite 500
Baltimore, MD  21201
Meeting notice current as of 3/29/2018
Executive Boardroom
Agenda