Tue, 11/17/2020 - 03:08 pm
Announcement Number
SOCOperator-122020
NATURE OF WORK 
This is a contractual position responsible for performing duties as Security Operations Center (SOC) Operator at the Camden Yards Sports Complex. This position is responsible for coordinating security operations to safeguard personnel and property assets by utilizing various security and communication platforms to monitor, report and mitigate issues that could potentially impact operations. Multiple candidates may be selected from this recruitment.
EXAMPLES OF WORK
(The duties listed below are illustrations of various types of work that may be performed. The omission of specific statements or duties does not exclude them from the position if the work is similar, related, or a logical assignment to the position. Incumbents in the position are expected to perform all of the duties described below).
Monitor building life safety systems to detect potential conditions that present risks to people or property.

Provide notification of alarms, events and emergency situations to appropriate security management personnel using notification and call down lists.

Observe situations analytically and objectively and record them clearly and completely.

Monitor and operate security cameras for situational awareness, observe and report unusual or suspicious activity.

Monitor and operate various security platforms (i.e., fire alarm systems, video surveillance systems, communication systems) to detect security risks, threats or prohibited activities.

Manage security officer post rotations and deployment locations based on changing conditions.

Manage facility access and delivery procedures.

Ensure building screening procedures are being followed.

Maintain proper inventory and control of daily visitor badges and facility key sets.

Provide excellent customer service and communications via phone, email and two-way radio.

Answer incoming telephone calls for service and coordinate the proper response of security patrol officers.

Maintain daily shift security logs and make notifications to security command staff for significant incidents.

Conduct investigations including interviews, interrogations, and processing crime scenes using appropriate investigation techniques and completion of detailed written reports

Responding to all emergency situations quickly and calmly, coordinating with city/county/State agencies as necessary.

Performs any other duties and functions appropriate to the position as assigned and required by the security management team.
MINIMUM QUALIFICATIONS
High school diploma or GED.

Two years of experience in private

security,

military service, law enforcement or correctional services.

Operational knowledge of IP-based video management and access control software.

Familiarity with the latest versions of Microsoft Office, Google Documents and Windows OS.

Must be available to work weekends, evenings and holidays.

Must successfully pass background screening including criminal record checks (local, state and federal), skills assessment test and interview.

Must have high ethical standards and high level of interpersonal skills to handle sensitive and confidential situations.
WORKING ENVIRONMENT AND PHYSICAL DEMANDS
(The conditions herein are representative of those that must be met by an employee to successfully perform the essential functions of this job. Reasonable accommodations may be made to enable individuals with disabilities to perform the essential job functions).
Environment —Work may be performed in a standard office setting with frequent travel to Camden Yards Sports Complex locations to perform departmental activities in response to urgent requests or critical incidents. Employee may be required to work indoors or outdoors in areas of extreme heat or cold. The noise level of the work environment is usually moderate but may be occasionally loud due to alarms, equipment noise, games and celebration noises, etc. Employee is subject to emergency call-out at any time and may be required to work extended hours including evenings and weekends.
Physical —Primary functions require sufficient physical ability and mobility to work in an office setting and to participate in urgent and/or emergency response situations; to walk, stand, or sit for prolonged periods of time; to occasionally stoop, bend, kneel, crouch, reach, and twist; to lift, carry, push, and/or pull moderate to heavy amounts of weight up to 50 pounds; to operate office equipment requiring repetitive hand movement and fine coordination including the use of computer keyboards; to operate a vehicle to travel to various locations; to operate and use specialized equipment; and to verbally communicate to exchange information.
HOW TO APPLY 
Interested candidates must submit an MSA employment application via mail or e-mail.
Option 1 (Preferred)—Visit MSA's website, www.mdstad.com, Apply For a Job and use the link at the bottom of the page to complete an electronic application.
Option 2 – Electronically send application and any other necessary materials to employment@mdstad.com with the Announcement Number SOCoperator-122020 in the subject line.
Option 3 – Mail an MSA application to the following address:
Human Resources
Maryland Stadium Authority
Attention: Announcement Number SOCOperator-122020
333 W. Camden Street, Suite 500
Baltimore, Maryland  21201
Resumes may accompany MSA's application; however, all sections of the application must be completed according to the instructions or it will not be considered.
If you are unable to apply on line, an application may be requested by calling 410-333-1560 (Toll free 1-877-637-8234).
As an equal opportunity employer, The Maryland Stadium Authority is committed to recruiting, retaining and promoting employees who are reflective of the State's diversity.
Next MSA Board of Directors Meeting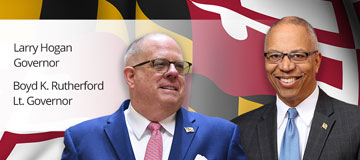 Human Trafficking
GET HELP
National Human Trafficking Hotline -- 24/7 Confidential
1-888-373-7888 | Text: 233733
For more information on human trafficking in Maryland click
here
.